To listen to any of the Bible classes below, left click on the file name. In a few minutes the file will begin to play on your computer. If you'd like to download the file and save it on your computer or MP3 player, right click on the file name and click Save Target As ... Then select a folder/directory on your system where you would like the file saved and click Save.
Check back frequently for new additions to these pages.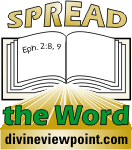 The following subjects/books are now available in MP3 format:
Doctrine of the Body and Soul / The Origin of Life

Tribute to Buddy Dano – Aired January 25, 2003 on KHCB radio, Houston, by host Rob Christian


More coming soon!