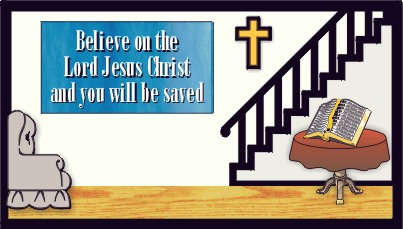 Divine Outlines
Ideal for pastors and those who desire an outline of a particular Bible topic for further study.

Saturday, August 5, 2000
1 John
Verses 1-
4 – Introduction
The LOGOS, His eternity and identity with the Father, His revelation in the flesh.

Verses 1:5 to 2:11 – The message concerning light.
Verses 2:12 to 5:3 – The message concerning love.
Verses 5:4 to 21 – Th
e message concerning life.


Saturday, June 24, 2000
Eph 2:1-13 is the Complete Epitome of the Gospel
Eph 2:14, 15, 17. Christ is our peace. He made peace. He preached peace.
Chapter 3 contains the fullest and deepest of Paul's prayers.
Study the subject of Paul and prayers throughout his epistles.
Paul's prayer life ... Come to the throne of Grace boldly.

Thursday, June 22, 2000
1 and 2 Thessalonians – Christ Our Hope!
The personal coming again of the Lord Jesus Christ is the hope of the Church and the main subject of both these epistles, being mentioned in every chapter.
1 Thessalonians
Chapter 1:9, 10, Christ's coming as an incentive to conversion. This was mainly a Gentile church and they turned to God from idols to serve the Living God and to wait for His Son from Heaven.
Chapter 2:19-20, Christ's coming as an incentive to faithful ministry. Paul's conduct had commended his preaching, the Thessalonians became an eager missionary church.
Chapter 3:12-13, "Christ's coming as an incentive to Christian love. They were already "taught of God to love one another," 4:9, but Paul's prayer for an increase of that love was answered, 2 Thes 1:3
Chapter 4:13-16, Christ's coming, the ground of comfort in bereavement when Christ comes, those who have fallen asleep believing in Him will be first to rise to meet Him. The majesty of His coming is set forth. Compare 1 Cor 15:51-52
Chapter 5:4-6, Christ's coming as an incentive to watchfulness. Compare Mark 13:33-37
Chapter 5:23, 24, Christ's coming as an incentive to holiness. Compare 2 Pet 3:14

Thursday, June 8, 2000
Two Sisters in a Crisis, John 11
A. Preliminary to resuscitation, verses 1-4
B. Two sisters in a crisis, verses 5-16
C. Failure of the two sisters, verses 17-27
D. Failure of Mary, verses 28-37
E. Seventh credit card, verses 38-46
F. Meeting of the Sanhedrin, verses 47-57


Tuesday, June 6, 2000
"Three Links in a Golden Chain"
Num 6:24-26

1. God the Father, "Bless thee and keep thee."
2. God the Son, "Make His face to shine upon thee, and be gracious unto thee."
3. God the Holy Spirit, "Lift up His countenance upon thee and give thee peace."
Bless Grace Peace

Wednesday, May 31, 2000
The Central Chapter of the Use of KURIOS is Acts 9
The following outline covers nearly every phrase of the subject:
Verse 1, opposition to the Lord
Verse 5, recognition of the Lord
Verse 5, claim of Jesus as Lord
Verse 6, question to the Lord
Verse 6, direction from the Lord
Verse 10, call of the Lord
Verse 10, response to the Lord
Verse 11, command from the Lord
Verse 13, hesitation before the Lord
Verse 15, choice of the Lord
Verse 17, sent from the Lord
Verse 27, testimony to the Lord
Verse 29, authority in the Lord
Verse 31, walking in the fear of the Lord
Verse 35, conversion to the Lord
Verse 42, believing in the Lord

Now, a careful study of the chapter will reveal the following among other things:
Submission to the Lord
Salvation by the Lord
Sanctification in the Lord
Service from the Lord
Sustainment by the Lord
Supremacy in the Lord
Sending by the Lord
Supply through the Lord

There are enough messages in this chapter to last your pastor a year.

The word that corresponds to the Greek word KURIOS for "Lord" is the Hebrew word ADONAI.

The title indicates the truth that God is the owner of each member of the human family and that He consequently claims the unrestricted obedience of all.

Over 200 times in the book of Ezekiel is ADONAI used in connection with the expression, "Saith the Lord," Literally, the Hebrew reads ADONAI JEHOVAH.

In Ezek 16, the expression occurs 11 times. Verses 3, 8, 11, 19, 23, 30, 36, 43, 48, 59, 63. If this chapter is studied, it will be seen that ADONAI was the authority and the power of the messages of the prophet.

Ask your pastor to teach it.

The Derivation of the Word KURIOS, Lord
KURIOS is derived from KUROS, which means supremacy and therefore gives to, KURIOS, the thought of one who is supreme in authority.

KURIEUO, KURIAKOS, KURIOTES are all derived from same root.

KURIEUO means to rule and is rendered in Luke 22:25, "Exercise lordship over." Rom 6:9, "Have dominion over." Rom 6:14, Rom 7:1, 2 Cor 1:24

KURIAKOS speaks of that which belongs to the Lord, as in the Lord's Supper and the Lord's Day, 1 Cor 11:20, Rev 1:10

KURIOTES signifies mastery and is translated "dominion" and "government," Eph 1:21, Col 1:16, 2 Pet 2:10, Jude 1:8

KUROO means to make authoritative or to ratify, and is rendered "confirm," 2 Cor 2:8

A dissertation on the Greek word "Lord," KURIOS.

"Lord of lords and King of kings."

Tuesday, May 30, 2000
Divine Outline!
John chapter one

1. The pre-incarnate LOGOS, John 1:1-14
A. Pre-existence of Jesus Christ, John 1:1-5
B. A witness to Jesus Christ, John the Baptist, John 1:6-8
C. Incarnation of Jesus Christ, John 1:9-14

"Before Abraham was, I am." "Abraham saw My day."


Thursday, May 18, 2000
Isaiah's First Message About the Condition of His Country and His People in 721 B.C. and it Looks Like Tomorrow Morning's Paper:
Isaiah chapter one. Make sure you read the verses with the titles.
"The vision of Isaiah the son of Amoz, which he saw concerning Judah and Jerusalem in the days of Uzziah, Jotham, Ahaz, and Hezekiah, kings of Judah. 2 Hear, O heavens, and give ear, O earth: for the LORD hath spoken, I have nourished and brought up children, and they have rebelled against me. 3 The ox knoweth his owner, and the ass his master's crib: but Israel doth not know, My people doth not consider. 4 Ah sinful nation, a people laden with iniquity, a seed of evildoers, children that are corrupters: they have forsaken the LORD, they have provoked the Holy One of Israel unto anger, they are gone away backward. 5 Why should ye be stricken any more? ye will revolt more and more: the whole head is sick, and the whole heart faint. 6 From the sole of the foot even unto the head there is no soundness in it; but wounds, and bruises, and putrifying sores: they have not been closed, neither bound up, neither mollified with ointment. 7 Your country is desolate, your cities are burned with fire: your land, strangers devour it in your presence, and it is desolate, as overthrown by strangers. 8 And the daughter of Zion is left as a cottage in a vineyard, as a lodge in a garden of cucumbers, as a besieged city. 9 Except the LORD of hosts had left unto us a very small remnant, we should have been as Sodom, and we should have been like unto Gomorrah.
"10 Hear the Word of the LORD, ye rulers of Sodom; give ear unto the Law of our God, ye people of Gomorrah. 11 To what purpose is the multitude of your sacrifices unto Me? saith the LORD: I am full of the burnt offerings of rams, and the fat of fed beasts; and I delight not in the blood of bullocks, or of lambs, or of he goats. 12 When ye come to appear before Me, who hath required this at your hand, to tread My courts? 13 Bring no more vain oblations; incense is an abomination unto Me; the new moons and sabbaths, the calling of assemblies, I cannot away with; it is iniquity, even the solemn meeting. 14 Your new moons and your appointed feasts My soul hateth: they are a trouble unto Me; I am weary to bear them. 15 And when ye spread forth your hands, I will hide Mine eyes from you: yea, when ye make many prayers, I will not hear: your hands are full of blood.
"16 Wash you, make you clean; put away the evil of your doings from before Mine eyes; cease to do evil; 17 Learn to do well; seek judgment, relieve the oppressed, judge the fatherless, plead for the widow. 18 Come now, and let us reason together, saith the LORD: though your sins be as scarlet, they shall be as white as snow; though they be red like crimson, they shall be as wool. 19 If ye be willing and obedient, ye shall eat the good of the land: 20 But if ye refuse and rebel, ye shall be devoured with the sword: for the mouth of the LORD hath spoken it.
"21 How is the faithful city become an harlot! it was full of judgment; righteousness lodged in it; but now murderers. 22 Thy silver is become dross, thy wine mixed with water: 23 Thy princes are rebellious, and companions of thieves: every one loveth gifts, and followeth after rewards: they judge not the fatherless, neither doth the cause of the widow come unto them. 24 Therefore saith the Lord, the LORD of hosts, the mighty One of Israel, Ah, I will ease Me of Mine adversaries, and avenge Me of Mine enemies: 25 And I will turn My hand upon thee, and purely purge away thy dross, and take away all thy tin: 26 And I will restore thy judges as at the first, and thy counsellors as at the beginning: afterward thou shalt be called, The city of righteousness, the faithful city. 27 Zion shall be redeemed with judgment, and her converts with righteousness. 28 And the destruction of the transgressors and of the sinners shall be together, and they that forsake the LORD shall be consumed. 29 For they shall be ashamed of the oaks which ye have desired, and ye shall be confounded for the gardens that ye have chosen. 30 For ye shall be as an oak whose leaf fadeth, and as a garden that hath no water. 31 And the strong shall be as tow, and the maker of it as a spark, and they shall both burn together, and none shall quench them."
1. First a charge in the Lord's Name against the Jewish assembly and the nation, verse 1.
A. Because of their ingratitude, verses 2-3.
B. Because of their incorrigibleness, verse 5.
C. Because of the universal corruption and degeneracy of the people, verse 4.
D. Because of their rulers perverting justice, verse 23.
1. A sad complaint of the judgments of God which they brought upon themselves by their sins, and by which they were brought almost to their ruin, verses 7-9.
2. A just rejection of those shows and shadows of religion which they keep among them, and notwithstanding the general objection and apostasy, verses 10-15.
3. An earnest call for a change of mind and restoration sitting before them to choose, life or death, verses 16-20.
4. A threatening of ruin to those that would not be restored, verses 24, 28-31
5. A promise of a happy restoration at last, and a return to their primitive purity and prosperity, verses 25-27.

And all of this can be applied to us — not only to the nation of which we are a part, but for the sake of our very own souls.

Wednesday, May 10, 2000
Christian Warfare, 1 Tim 6:12
1. The fight is on.
A. It is a defensive fight, Eph 6:12, "For we wrestle not against flesh and blood, but against principalities, against powers, against the rulers of the darkness of this world, against spiritual wickedness in high places."
B. It is an aggressive fight, 2 Cor 10:4-5, "For the weapons of our warfare are not carnal, but mighty through God to the pulling down of strong holds;) Casting down imaginations, and every high thing that exalteth itself against the knowledge of God, and bringing into captivity every thought to the obedience of Christ."

2. It is a good fight.
A. Our cause is good, Jude 1:5, "I will therefore put you in remembrance, though ye once knew this, how that the Lord, having saved the people out of the land of Egypt, afterward destroyed them that believed not."
B. Our weapons are good, Eph 6:17, "And take the helmet of salvation, and the Sword of the Spirit, which is the Word of God.
See Acts 6:4, "But we will give ourselves continually to prayer, and to the ministry of the Word."

3. It is a fight of faith.
A. The source of faith, Rom 10:16, 17, "But they have not all obeyed the Gospel. For Esaias saith, Lord, who hath believed our report? So then faith cometh by hearing, and hearing by the Word of God."
See Luke 18:8, "I tell you that He will avenge them speedily. Nevertheless when the Son of man cometh, shall He find faith on the Earth?"
B. The shield of faith, Eph 6:16, "Above all, taking the shield of faith, wherewith ye shall be able to quench all the fiery darts of the wicked."

The Gospel, Titus 2:11-14
"For the Grace of God that bringeth salvation hath appeared to all men, Teaching us that, denying ungodliness and worldly lusts, we should live soberly, righteously, and godly, in this present world; Looking for that Blessed Hope, and the glorious appearing of the Great God and our Saviour Jesus Christ; Who gave Himself for us, that He might redeem us from all iniquity, and purify unto Himself a peculiar people, zealous of good works."
1. What here is said of its nature.
A. The name, "The Grace of God"
B. The subject, "Bringing salvation"
C. The manifestation, "Hath appeared to all men."
1. None are excluded from its benefits
2. None are exempt from its appointments.

2. Its influence.
A. How the Gospel teaches
1. Precept
2. Example
3. Motive
4. Real and spiritual operation and efficiency.
B. What the Gospel teaches
1. What it teaches us to deny? "Ungodliness and worldly lusts"
2. What it teaches us to do? "To live soberly, righteously, and godly in this present world."
3. What it teaches us to expect? "Looking for that Blessed Hope and the glorious appearing of the Great God and our Saviour Jesus Christ."

This is the school of Grace. Grace saves and Grace teaches. It is only left for us to "Grow in Grace and in the knowledge of our Lord and Saviour Jesus Christ."

"I Thank My God," Philemon 1:4
"I thank my God, making mention of thee always in my prayers."
1. The object, "I thank my God."
2. God is the Author of all good.
Hosea 14:8, "Ephraim shall say, What have I to do any more with idols? I have heard him, and observed him: I am like a green fir tree. From me is thy fruit found."
3. To Him, therefore, is all praise due.
1 Chr 29:13-14, "Now therefore, our God, we thank thee, and praise Thy glorious Name. But who am I, and what is my people, that we should be able to offer so willingly after this sort? for all things come of Thee, and of Thine own have we given Thee."
4. It is the privilege of men to approach Him as their God.
5. Our prayers and praises should be for others as well as for ourselves.
6. The circumstances, "Always."
7. The matter.
A. Of his praises on account of Philemon
1. Love for Christ
2. Faith in Christ
3. Love to saints
B. Of his prayers
1. That fruit may abound
2. That others may be won
3. That God may be glorified.
8. The reason.

Those Who Reject the Gospel, Heb 2:3
"How shall we escape, if we neglect so great salvation; which at the first began to be spoken by the Lord, and was confirmed unto us by them that heard Him."
1. The absurdity of rejecting the Gospel of salvation. This will appear if we consider the following;
A. Its gratuity
B. Its greatness
C. Its endurance
E. Its relation to us
E. Its singleness

2. The impossibility for Gospel rejectors to escape eternal punishment:
A. The inseparable connection between sin and punishment.
B. God's veracity
C. God's omnipotence
D. God's justice
E. The nature of Heaven

"Of purer eyes than to behold iniquity."

Tuesday, May 9, 2000
Christ the Servant, Mark 8:36-37
"The Son of Man came not to be ministered unto"
1. This should teach us:
A. The emptiness of earthly greatness.
B. Contentment in our situation.

"The Son of Man came to minister"
1. And from this we learn:
A. To be diligent in doing good.
B. To condescend in the meaningless acts of kindness.

"The Son of Man came to give His life a ransom for many"
1. And this teaches:
A. The deplorable condition of sinners.
B. The amazing compassion of the Lord Jesus Christ.
C. The subject encourages our application to Him and dependence on Him as our Saviour.
D. The subject stimulates us to seek diligently the salvation of others.

A Good Stronghold, Nahum 1:7
Nahum 1:7, "The Lord is good a stronghold in a day of trouble and He knoweth them that trust in Him."

1. The Lord Himself is good.
A. Good in Himself essentially and independently.
B. Good eternally and unchangeable.
C. Good in all His acts of Grace.
D. God in His present act, be it what it may.

2. The Lord to us a stronghold in a day of trouble
A. Under special circumstances, our Resort
B. Maintaining our peace.
C. Defying our foes.
D. Abiding forever the same.

3. The Lord with us. "He knoweth them that trust in Him."
A. His tender care to supply all our necessities.
B. His loving communion with us.
C. His open acknowledgement that He owns us now, and will confess us before assembled worlds, Rev 3:5.


Monday, May 8, 2000
Psa 23:1, "The Lord is my Shepherd."
If He is, then:

1. This is faith's recognition, verse 1.

2. This then is faith's experience:
a. Repose and satisfaction, verse 2
b. Restoration and guidance, verse 3
c. Plenty and protection, verse 5

3. Faith's prospect.
a. Companionship in the shadowed valley, verse 4
b. Celestial attendants all the days of life, verse 6

The Good Shepherd that layeth down His life for His friends.

Prov 23:26, "My son, give Me thine heart and let thine eyes observe My ways."

The heart is the Hebrew word LEB, which means the mind, the mentality of the soul. This is the duty of giving the mind to God.

1. The intent of it is eternity.
A. Affection of the soul.
B. The confidence of the mind.
C. The service of life.

2. The reasonableness of it.
A. Because of His right over us as, Creator and Saviour.
B. Because of His mercies towards as Redeemer.
C. Because of the utter worthlessness of all His competitors.

"Who else have we in Heaven but Thee. And on Earth there is no one but Thee."

Psa 50:14, "Offer unto God thanksgiving and pay thy vows unto the Most High."
"Give thanks in everything, for this is the will of God concerning you."

1. Creation is a proper subject of thanksgiving.
2. The benefits of providence demand our thanksgiving.
3. The blessings of Grace claim our warmest gratitude.

Jer 23:27, "Behold, I Am the Lord, the God of all flesh. Is there anything too hard for Me?"

1. I am: Individuality I am that I am. Always existing.
2. I am the Lord: Dominion and majesty.
3. The God of all flesh: Universality.
4. Is anything too hard for Me? Distrust rebuked, and prayer encouraged.

Luke 24:4, "And when He had thus spoken, He shewed them His hands."

1. Christ was truly a man, with hands.
2. Christ's hands were pure hands.
3. Christ's hands were calloused hands, carpenter.
4. Christ's hands were strong hands.
5. Christ's hands were friendly hands.
6. Christ's hands were wounded hands.
7. Christ's hands were uplifted hands.
8. Christ's hands are outstretched hands.

I think there is a message here.
"They shall look upon Me whom they have pierced." Identification. The only identified Saviour of the world.

Rev 22:20-21, "He which testifieth these things saith, surely I come quickly, Amen. Even so come Lord Jesus. The Grace of our Lord Jesus Christ be with you all. Amen."

This is the Church's last Amen.
1. The last testimony.
2. The last prophesy. "Surely I come quickly."
3. The last prayer. "Amen."
4. The last blessing. "The Grace of our Lord Jesus Christ be with you all."
5. The last amen.

Thursday, May 4, 2000
Whom Not to Marry!
Ezra 9:12, "Now therefore give not your daughters unto their sons, neither take their daughters unto your sons, nor seek their peace, or their wealth forever that ye may be strong, and eat the good of the land and leave it for an inheritance to your children forever."

1. They are contrary to the express command of God. 2 Cor 6:14
2. They are inconsistent with the most sacred aspects and ends of marriage.
3. They imperil the salvation of the soul.
4. They are harmful to wise and harmonious home relationships.
5. They are determined not to be in the best interest of the children of the marriage.

Prayers are hindered because of the lack of domestic tranquility.

Terrible Calamities in Our History!
Zeph 3:6-8, "I have cut off the nations. Their towers are desolate. I make their streets waste that none passeth by. Their cities are destroyed, so that there is no man, that there is no inhabitant. I said surely thou wilt fear Me, thou will receive instruction so their dwelling should not be cut off. Howsoever I punished them, but they rose early and corrupted all their doings. Therefore wait ye upon Me, saith the Lord, until the day that I rise up to the prey for my determination is to gather the nations that I may assemble the kingdoms, to pour upon them Mine indignation even all My fiercest anger, for all the Earth shall be devoured with the fire of My jealousy."

Sounds like a prophesy for our country today.

Now what can we do with this passage? Well, don't read it, it will go away. But pastors are to give you the whole Counsel of the Word of God.

1. There is a sense in which the most terrible calamities in our history may be ascribed to the Lord.
2. The grand design of such calamity is the promotion of moral improvement among mankind.
3. The non-realization of this design among a people exposes them to terrible retribution.
God disciplines for correction, not for annihilation.
God is more than love. He is righteousness and justice also.
When we frustrate completely His love, we face His justice and righteousness.

"God is of purer eyes than to behold iniquity."

Jonah 2:9, "But I will sacrifice unto Thee with the voice of thanksgiving. I will pay that which I have vowed, salvation is of the Lord."

Now, did you know that was in Jonah? Remember Jonah was down in the mouth of …

1. Salvation is wholly of God in its origin with the Father.
2. Salvation is wholly of God in its execution by the Lord Jesus Christ.
3. Salvation is wholly of God in its application by God the Holy Spirit.

The Trinity in our so great salvation.
Are you sure you read Jonah?

"What shall I requite of the Lord for all of His benefits to me? I will take the cup of salvation and give thanks unto the Lord."

Wednesday, May 3, 2000
The Hands of the Lord Jesus Christ, Luke 24:40
"And when He had thus spoken, He showed them His hands."

1. Christ was truly a man.
2. They were pure hands.
3. They were calloused hands, carpenter.
4. They were strong hands.
5. They were friendly hands.
6. They were wounded hands.
7. They were uplifted hands.
8. They were outstretched hands.

P.S. This will give you a start and you can add to it.

The Ascension of the Lord Jesus Christ, Luke 24:51
1. Consider His ascension as the crowning fact of Christ's life.
2. Consider His ascension as the enthronement of the King of kings.
3. Consider His ascension in relation to His coming again.

P.S. You can add additional points.


When Christ Comes to Visit ...
The house of the Christian when God visits it with trouble, John 4:46-54

Trouble:
1. Unites its members in tender love.
2. Directs them more trustfully in the Lord.
3. Awakens them to prayer and intercession.
4. Produces at last a joyful and thankful faith.


Unbelief, John 8:24
1. It is the one thing that especially ruins men.
2. All manner of sin may be forgiven.
3. But unbelief bars the door against the Grace of God, John 3:36
4. If the Jews would only had believed in Christ, they would have been delivered from this present evil world.
5. Only by believing on a heavenly Saviour a man has a portion in Heaven. Gal 1:4
6. There is nothing hard or uncharitable in warning men plainly of the consequences of unbelief.
7. Never to speak of Hell is not acting as Jesus Christ did.


Tuesday, May 2, 2000
The Nature of the Gospel
Titus 2:11, "The Grace of God which bringeth salvation hath appeared to all men."

A. The name of the Gospel ... The Grace of God.
B. The subject of the Gospel ... Bringeth salvation.
C. The manifestation of the Gospel ... Hath appeared.
D. None are exempt from its appearance ... All men.


What the Gospel Teaches, Titus 2:11-14
1. What it teaches us to deny? Ungodliness and worldly lusts.
2. What it teaches us to do? To live soberly, righteously, and Godly in this present world.
3. What it teaches us to expect? Looking for that Blessed Hope and the glorious appearing of the great God and our Saviour Jesus Christ.

The Gospel saves us and the Gospel also teaches us.


Monday, May 1, 2000
Mal 4:6, "And He shall turn the heart of the fathers to the children and the heart of the children to the fathers. Lest I come and smite the Earth with a curse."

The Home School

1. Parents are responsible to God and to human society for their children.
2. The responsibility is just.
3. The destiny of a child renders it worthy of a parent's whole heart, time, and thought.
4. When a child goes forth from parental care, parental neglect can not be made up to it.

Children are on deposit from the Lord. They will end up with Him.


Mal 1:6, "If I then be a Father."

1. Consider the trust assumed. God has always acted as a Father to us.
A. In bringing us into existence.
B. In stamping upon us His image.
C. In providing for our needs.
D. In redeeming us from sin.
E. In adopting us into His heavenly family.
F. In arranging our life so as to discipline us.


Mal 1:6, "If I be a Father, where is My honour?"

1. God's appeal in view of this Truth.
It is our duty to honor Him as God. And this involves:
A. Reverence towards Him
B. Obedience to His Word
C. True to His Grace
D. Submission to His chastisement
E. Revealing His image


Mal 1:6, "If then I be a Father, where is My honour?

1. How this appeal should be responded to:
A. By serious reflection
B. By true confession
C. By earnest prayer as the spirit of sonship
D. By constant effort to honor God in the future


Comments about this web site? E-mail me.

Page updated 01/02/13 03:17 AM.