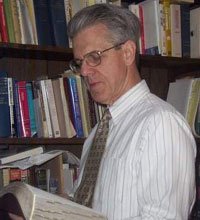 CHARLES CLOUGH was born in Brooklyn, NY and grew up on Long Island. Upon graduation from high school, Charlie received a full scholarship to Massachusetts Institute of Technology. It was during his first semester at MIT that Charlie was lead to Christ by a Campus Crusade for Christ staff member. Charlie met Carol while in college and they later married. Charlie completed his BS in Math at MIT and also did some graduate work.

After four years in the Air Force serving as a meteorologist, he entered Dallas Theological Seminary. Charlie earned the ThM in Old Testament Hebrew while at Dallas, graduating in 1968. Clough's master's thesis was entitled "A Calm Appraisal of The Genesis Flood," which was a review and analysis of all the reviews and analyses of Henry Morris and John Whitcomb's classic work The Genesis Flood. By this time in his life, the former evolutionist had used his scientific and biblical training to conclude that God created the heavens and earth in six literal days, six thousand years ago. Charlie became pastor of Lubbock Bible Church in 1968, where he developed his unique approach to training Christians through a Basic Framework for Christian Doctrine.

In the early 80s Charlie earned the MS in Atmospheric Science from Texas Tech University. Since 1982, Clough has been a staff meteorologist with the Department of the Army involved with weapons testing at Aberdeen Proving Ground, Maryland. Starting in the fall of 1995 Charlie began teaching a Thursday evening class at Fellowship Chapel in Jarrettsville, Maryland on his Basic Framework for Christian Doctrine. This series was completed in the Spring of 2002. Charlie and Carol reside in Bel Air, Maryland. They are parents of four grown sons.